Ski area Hochficht – winter raised to the power of three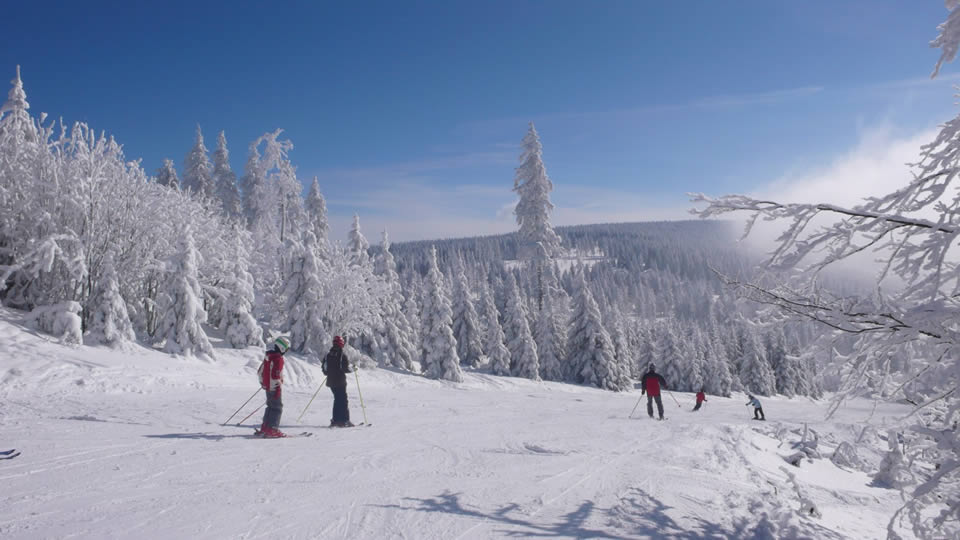 Quality sports skiing and snow guarantee on the ski swing with 21 km of ski slopes
Hochficht is the best and the largest ski area in the Czech-Austrian-Bavarian Bohemian Forest. It is also the largest area comparing all parameters of all ski areas in the Czech Republic, with 21 km of downhill tracks, which create an amusing ski swing among three Bohemian Forest mountaintops Smrcina – Hranicnik – Zwiselberg.
A high snow guarantee given by the altitude 930 - 1,330 MASL and a one hundred percent covering of all 12 downhill tracks by the snowmaking system, the longest downhill tracks of 3.4 km, 2 aerial and 3 four-seat cableways, two ski slopes with the racing FIS homologation, boardercross track and many other attractions rate Hochficht the real gem of downhill skiing outside the Alps.
Tip: The guests of Lipno Lake Resort can buy ski passes of the Ski area Hochficht at reduced prices in the resort sports rental shop Lipno Centrum. Without queuing at the ticket office, for Czech crowns, at the Czech speaking staff. Book your ski or snowboard equipment here.
Ski area Hochficht - TOP 1 of the ski resorts in the Czech-Austrian-Bavarian Bohemian Forest
| MOUNTAIN REGION | THE BOHEMIAN FOREST (AUSTRIA) |
| --- | --- |
| Altitude | 930 - 1 338 MASL |
| Number of cable cars / chairlifts / lifts / mobile carpets | 2 / 3 / 2 / 2 |
| Total transport capacity | 16 409 persons / hour |
| Total number of downhill tracks | 12 |
| Total length of downhill tracks | 20,8 km |
| Difficulty levels of downhill tracks | Blue, red, black |
| The longest downhill track | Stierwiese - 3 400 m |
| The highest drop of a downhill track | Krummauer route - 479 m |
| Technical snow of downhill tracks | 20,8 km = 100 % downhill tracks |
| Ski pass price for 1 day adults/children up to 19 (2,00 Euros deposit per issued lift ticket) | € 52,00 / € 26,00 |
| Ski pass price for 6 days adults/children up to 19 (2,00 Euros deposit per issued lift ticket) | € 243,00 / € 122,00 |