Ski park Frymburk - Activity park of the little bear Kubik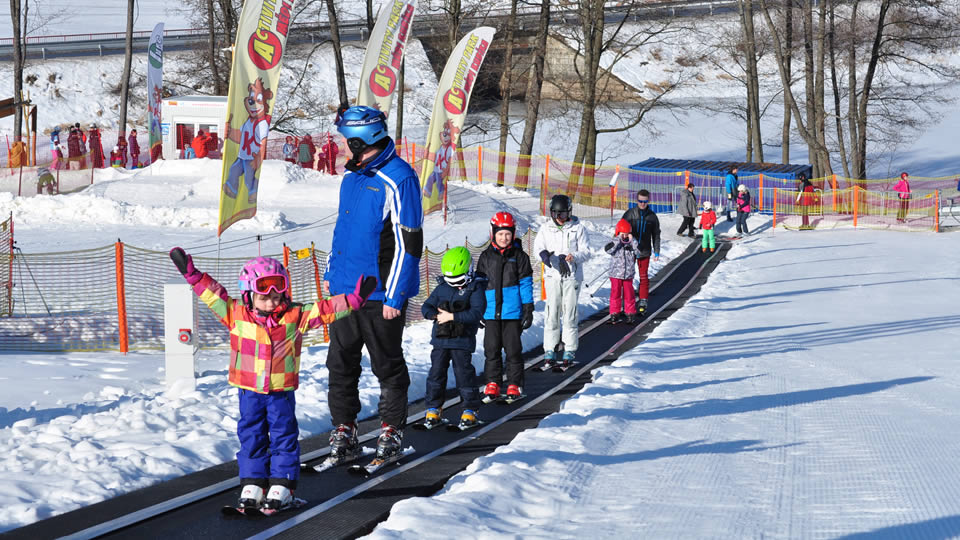 Family skiing with a stunning view on the town Frymburk and the frozen lake Lipno
The family ski area Ski park Frymburk, which is a part of the year-round Activity park of the little bear Kubik, can be found at the periphery of the picturesque little town Frymburk. This ski area is ca. 6 km away from the apartments Lipno Lake Resort.
The modernized Ski park Frymburk offers rather intimate family skiing at Lipno without crowds of people in a pleasing environment on a popular hill Marta with a stunning view on the frozen lake Lipno, which surrounds the peninsula Frymburk from three sides and on the neighbouring Bohemian Forest mountaintops Vitkuv Hradek, Bärenstein, Smrcina (Hochficht) and Spicak. You can also see the Alps (Dachstein, Grosser Priel) in favourable weather.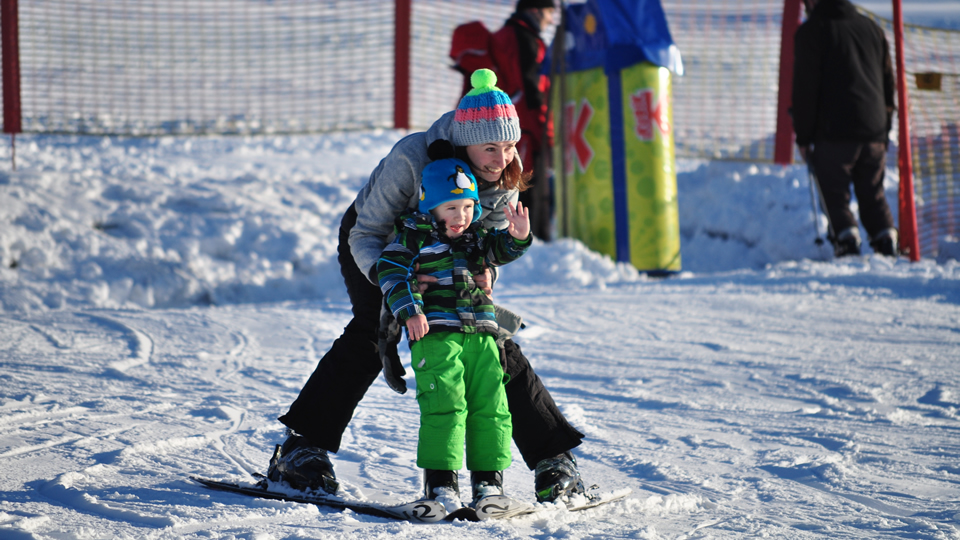 Emphasis on the comfort of children
The children enjoy skiing in the Ski park Frymburk the most. There is a large and richly equipped winter Children´s park of the little bear Kubik (park Medi Kubika) for them with 2 long transport belts ("magic carpets"), a ski merry-go-round, a track for snow tubing and 3 children´s slaloms. Ski park Frymburk is an ideal place for learning to ski in a playful way and without any needless stress.
You can warm up and refresh at Ranc u Tri Anc with a great view on the whole Children´s playground of the little bear Kubik, the services of a ski school are essential. You can book a ski or snowboard equipment here.
Ski park Frymburk
| Mountain range | The Bohemian forest |
| --- | --- |
| Altitude | 727 - 834 MASL |
| Number of cableways / ski tows | 0 / 3 |
| Total transport capacity | 3 000 persons / hour |
| Total amount of slopes | 2 main + 3 in children's park |
| Total length of slopes | 1,6 km |
| Types of difficulty of downhill tracks | Blue |
| Longest slope | Relax - 650 m |
| The highest vertical drop of the downhill track | Relax a Tiger - 170 m |
| Technical snow possibilities on slopes | 1,6 km = 100% slopes |
| Price of ski pass for a day adults / children up to 18 | 700 CZK / 600 CZK |