An amusement park full of amusements and game elements – The Forest Kingdom Lipno
The nook of the Bohemian Forest nature dedicated to games and frolicking of the whole family
You have been already walking on the Treetop Walkway Lipno for 5 years. You can experience everything that is on under the walkway thanks to the Forest Kingdom. There is an amazing forest playground which soaked up the unique atmosphere and thumbprint of the Bohemian Forest nature.
There are tens of amusements and game elements in the new Forest Kingdom. Some of them have been inspired by this stunning nook of the Bohemian Forest nature and in fact have been custom-made. You can spend here hours entertaining all generations.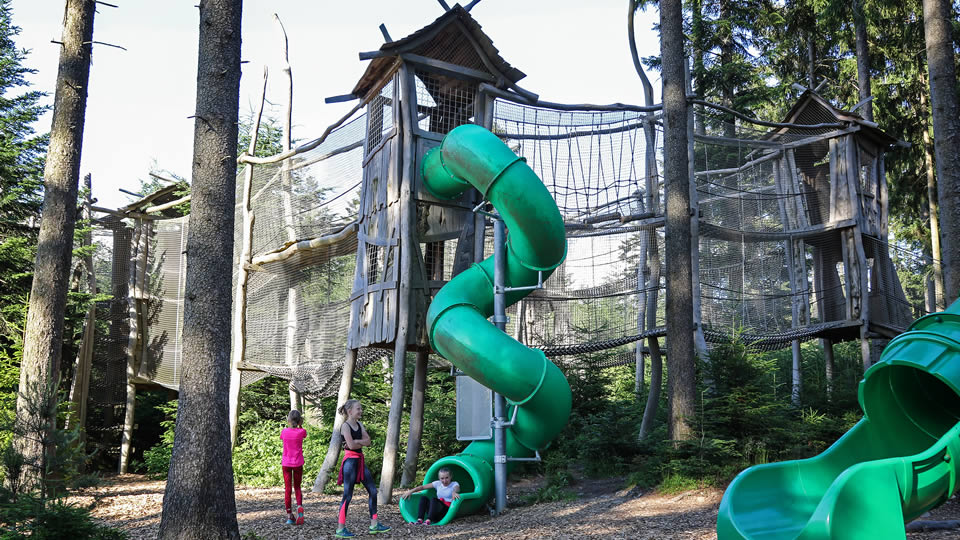 Entertainment for everybody
Do you want to experience what is going on under the green carpet that can be seen from the Treetop Walkway? Do you look for a place, where you can spend hours frolicking with the whole family? Does it attract you to become a part of the forest community for a while?
The new oasis in the Bohemian Forest is dedicated to playing, frolicking and improving movement abilities. Regardless of the age. Get ready for tens of fantastic attractions.
You can stay in the maze among young trees. You can get lost in the anthill. Or you can jump up to the branches of full-grown trees on a big trampoline.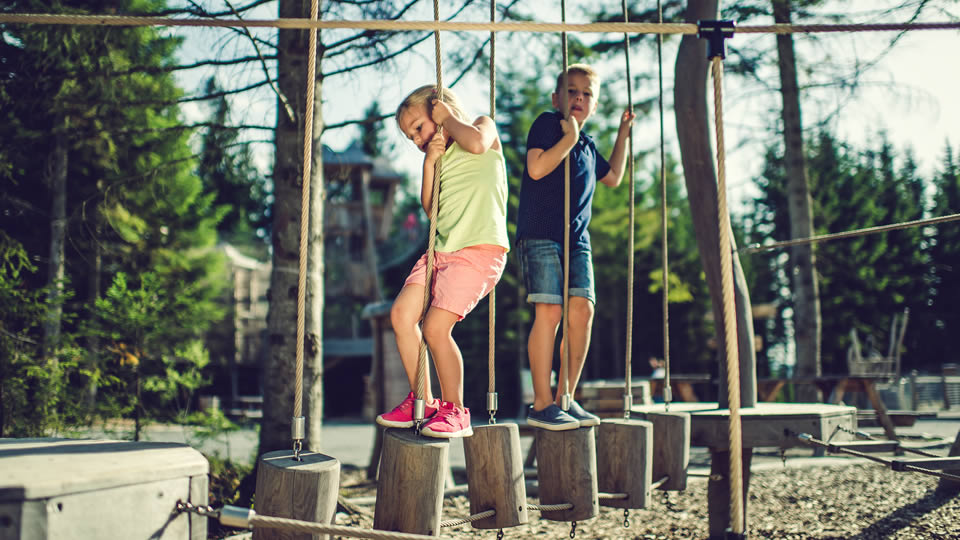 The Forest Kingdom also offers gastronomic experiences!
The all-day expedition along the Forest Kingdom requires quite a pretty energy supply. Therefore there are enough refreshment points with a wide and quality offer of food and drink. The vegetarians or coeliacs are also remembered beside the traditional Bohemian Forest cuisine. And the nature is also remembered: all food is served in eco-friendly containers and the rest of the containers is recycled dutifully.
The self-service restaurant Sumavanka at the entrance to the Kingdom Forest is the right choice. You can choose from a wide offer of daily meals and three kinds of soup in the high season there. Everything is inspired by the Bohemian Forest nature and tradition of the locals.
What is waiting for you in the Forest Kingdom?
Central rope amusement
Rope centre
A giant trampoline
Little goats
Cableway
Small houses for small children
Ice-cream kingdom
Workout set
Forest Kingdom
with registration / without registration to the loyalty club Lipno.card
Forest Kingdom
Treetop Walkway Forest Kingdom
Transport (ascent and descent)*
Adult (yr 1959 - 2008)
355 CZK / 395 CZK
670 CZK / 745 CZK
250 CZK / 290 CZK
Children (yr 2009 - 2019), Senior (yr 1958 and older)
355 CZK / 395 CZK
600 CZK / 680 CZK
150 CZK / 190 CZK
Family - (2 adults and 1 child yr 2009 - 2019)
1 010 CZK / 1 130 CZK
1 870 CZK / 2 100 CZK
500 CZK / 580 CZK
Family 2 - Family 2 (2 adults and 2-4 children yr 2009 - 2019)
1 150 CZK / 1 310 CZK
2 120 CZK / 2 420 CZK
650 CZK / 770 CZK
Basic group (15+ persons yr 2008 - 1959). Preis pro Person.
280 CZK
530 CZK
190 CZK
Discounted group (15+ persons yr 2009 - 2019) / Senior (yr 1958 and older) / ZTP/P(severe health disability reguiring special care / needing special assistence
240 CZK
455 CZK
140 CZK
ZTP/P severehealth disability reguiring special care / needing special assistence. Accompaniment is for free.
355 CZK
600 CZK
150 CZK
* The combined ticket for the Lipno Express cable car and Lipno Bus, which takes you to all the interesting places in Lipno nad Vltavou, is valid for the whole day on which it was first used. The ticket is valid for 1 person and is non-transferable.
Prices are valid from 2023/04/29 to 2023/10/31.
Prices are in CZK including VAT.
Changes reservedy.