Cross country ski area Frymburk and Lipno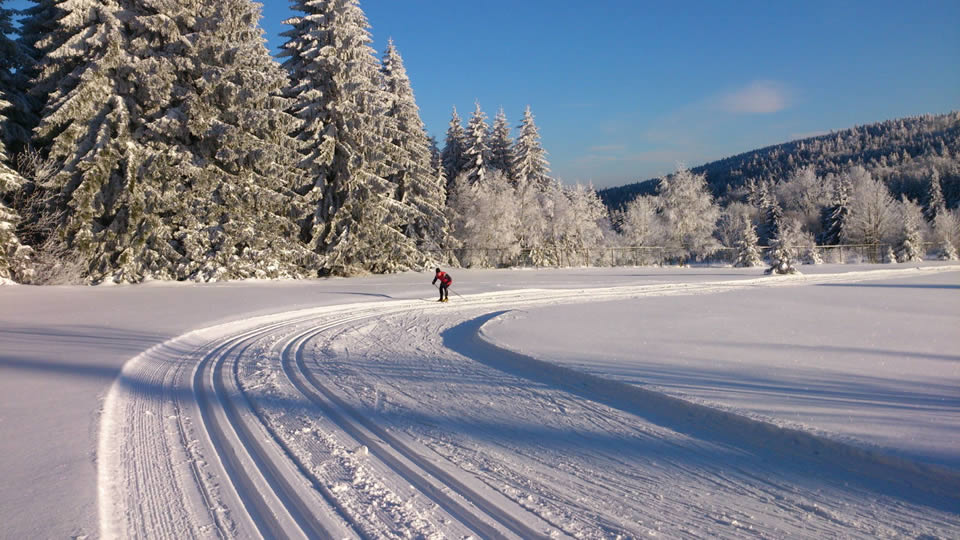 Very well maintained tracks around the Lipno dam in forests, meadows or on the dam. Cross-country skiing areas Frymburk-Lipno and in case of less snow mainly Austrian Schöneben are ideal skiing choice.
It is a wonderful skiing area of a length 43 km which is very well maintained and goes partly through the forests between the towns Frymburk and Lipno, partly along the meadows and fields at Svatonina Lhota and partly on the frozen Lipno dam. Tracks are maintained at the sea level of 720 - 920 m.
Entrances and accompanying services
The best place for the start is in the park place at Wellness Hotel Frymburk which is 100 m behind the beginning of the town Frymburk in the direction from Cerna v Posumavi to Frymburk. Here you can park your car free of charge and you can also use the services of the lending office and shop Lipno Centre where you can lend or buy everything for skiing and have you ski serviced. Ski traces begin 30 m from the park place. Another possibilities of the start place are at football pitches in Frymburk and Lipno nad Vltavou. Everybody should try a new open refreshment stall in the romantic Svatonina Lhota during skiing.
Information about sport lending offices